Special Fence Application – OKC Fence Company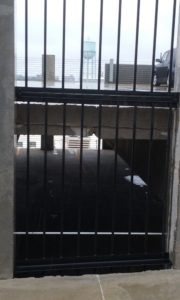 A/M Fence Company in Oklahoma City which services OKC, Moore, Norman, Edmond, and Surrounding Areas would like to share the following bit of information with you!
Did you know that you can use a fence in a variety of ways? A fence does not have to be used in the typical way of enclosing a yard, pool dumpster, etc. A fence can be used to add a special element of decor to a building and create the same type of barrier a fence does at the same time. Not only do we design and construct many styles of fencing and custom gates we can also do anything in steel. In shop fabrication or on site welding and installation.
This project (see pictures) was completed for an upscale parking garage at the Millennial Apartments. To be more cost effective we customized standard ornamental iron fencing by welding angle iron onto the bottom rail of each section to lessen gaps. Then we painted and installed 174 sections of iron safety rails.
 [spacer height="4px"]
Are you ready to get your specialty fence project started? Look to the specialty fence experts at A/M Fence to get the job done right! We will take our expertise from the many specialty fence projects in which we have completed in the past and work tirelessly hard to apply it to the job at hand! Contact our friendly specialty fence expert by calling (405) 476-5391 to get the process started. The specialty fence expert will be ready and equipped with the knowledge to get you the specialty fence you have always wanted for your property. Thank you in advance for considering OKC Fence Construction Company A/M Fence for all of your Speciality Fence needs! We will be sure to do a good job for your company and or family and not disappoint.